Gandikota: The Grand Canyon of India, Why Go Arizona, USA!
A hidden gem…Grand Canyon Of India
Well, you may be surprised by what the title is all about, but trust me you will be amazed to know that a grand canyon also exists in India. Gandikota is the place, (Grand Canyon Of India) a beautiful and stunning paradise in the heartland of Bangalore. It is a weekend getaway from Bangalore. Just right on the spot, it is a destination which you would be awe-struck to visit.
In India we do not witness gorge formations, thus it is also called as the Indian version of the grand canyon or desi grand canyon. As an avid traveller, I shall refrain myself of not comparing the two as it will not be a justice to these different destinations in the world.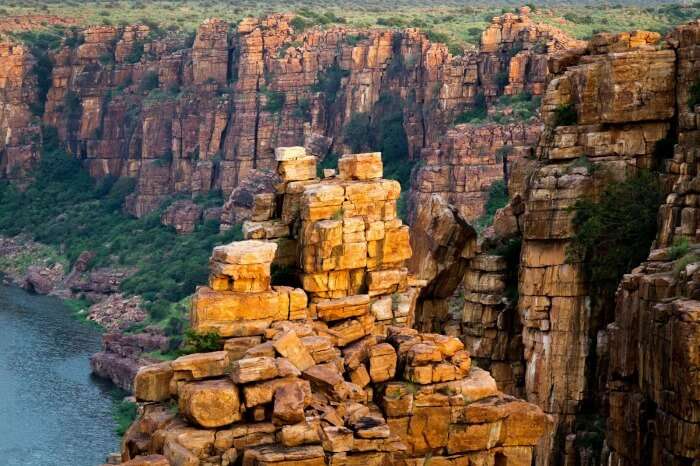 So, let us know more about Gandikota Gorge formations or Gandikota Canyon:
It is a quaint and very simple village in the Kadapa district of Andhra Pradesh. It is known for its panoramic gorge formed by river Pennar that pierces through the Erramala hills. This impressive piece of Nature's design has come to be known as the Hidden Grand Canyon of India by the tourists and travellers who visit this place and get beguiled by its beauty. Thus they tend to compare the Grand Canyon in Arizona.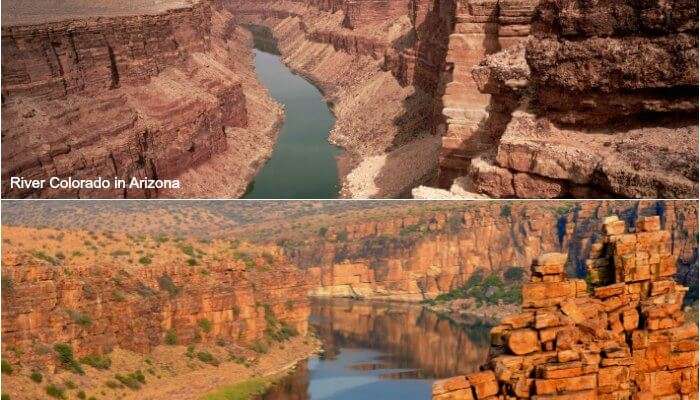 What to do when in Gandikota
Sitting on the banks of Pennar river and enjoying breathtaking views you can't even think how the river must have broken the cuts and formed this stunning gorge. It is believed that the river has cut the slabs over centuries now. This is beautiful to imagine how the flow of water got intruded by the river and has formed the gorge. The entire area is covered with deep dense valleys and huge granite boulders.
Going back to history – Geologists says that it has an important role to play in the history of Andhra Pradesh. Geologist P.D. Sabale studies and explains how it was formed. The River Pennar cuts the pink granite and makes abed rock here. Cutting the ingenious, acidic and hard compact mass of granite the natural decomposition of the rock took place.
Adjoining the formations is the medieval fort which speaks history in itself. The fort Gandikota is named from a Telugu word Gandi which means gorge. This fort holds a fort and a temple. Once you visit you will get mesmerized with the ancient architecture. You may find the debris scattered of the ruins of temples and mosque dating back from the Qutub Shahi and Vijayanagara periods.
Other spots to visit in Gandikota are – Madhavaraya temple and Raghunathaswamy temple, Jamia Masjid of Gandikota fort, Rayalacheruvu Lake, enthralling interiors of Belum Caves, you can also do camping and other water activities.
How to reach: Get a train from Gooty Junction. The nearest airport is at Kadapa 77 km. Nearest town by road is Jammalamadugu.
Lodging: APTDC Complex – it is spread at 12 acres, you can book a cottage and has an area for kids to play. For more hotels click here
Best Time: between September to February as the weather is suitable and enjoyable, else the summers are like 45-50 degrees.
Tip: there are not many food joints near the fort and temples, thus either take some munching with you or keep your stomach fill before you start your day. Carry some candies and lots of water.
There are numerous other attractions in and near the village that charm visitors. The most special being the antiquated, radiant Gandikota fort that sits wonderfully on top of the gorge. Apart from the unmatched majesty of the gorge, the mystical appeal of this fort makes a visit to this village all the more compelling for history lovers and adventure seekers. For more such travel blogs and stories, head on here – Facebook, Instagram, or just scroll more…
Product that I recommend, if like it go ahead, click and Order it from here